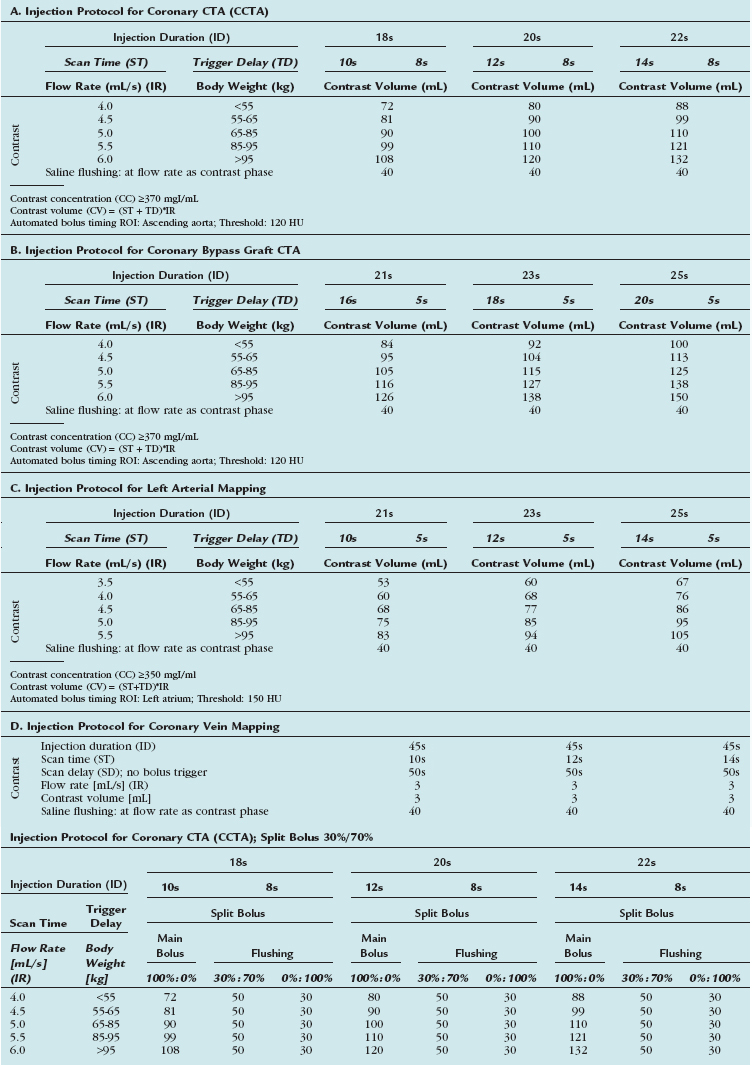 CHAPTER 11 Contrast Agents and Medications in Cardiac Computed Tomography
Earlier generations of multidetector CT scanners provided the foundation for cardiac multidetector CT angiography, and the implementation of 64-multidetector CT technologies made it a reliable tool with a high degree of diagnostic efficacy.1–3 In contrast to CT angiography applications using intravenous contrast medium (CM) administration elsewhere in the body, adequate cardiac opacification is not always simple to achieve, particularly in light of continuously evolving CT technology, with scan times becoming substantially shorter, but yielding improved spatial and temporal resolution. Empiric injection protocols are no longer adequate because they do not take into account the complexity of all confounding variables that allow consistent, robust cardiac imaging.4 These confounding variables include the requirement for a controlled and regular heart rate and carefully timed arterial enhancement for optimal cardiac and coronary vessel enhancement during minimal cardiac motion. Physiologic and pharmacokinetic constraints of cardiac enhancement in addition to inherent technical scanner properties have to be considered when building an integrated scanning and injection protocol for cardiac CT angiography.
This chapter reviews the general properties and safety aspects of (1) medications used for patient preparation and of (2) iodinated CM administration with particular relevance to cardiac imaging. Basic principles of arterial enhancement (early CM dynamics) and their impact on successful cardiac imaging, and specific modifications for optimal timing of CM injection and data acquisition for cardiac CT angiography are discussed.