Chapter 46 Approach to Diagnosis of Diffuse Lung Disease
The term diffuse lung disease (DLD) includes infiltrative lung processes that involve the alveolar spaces or lung interstitium. This definition is fundamentally unsatisfactory because it groups together a variety of diverse disorders, some of which, such as cryptogenic organizing pneumonia, are not actually "diffuse," but rather patchy and sometimes limited in extent. Furthermore, many secondary infiltrative abnormalities, including bacterial infection and malignancy, are excluded, whereas others, such as pulmonary involvement in connective tissue disease (CTD), are retained in most DLD classifications. The DLDs are grouped for historical reasons; in early series, DLDs presented most frequently with widespread clinical and chest radiographic abnormalities. However, with increasing clinician awareness of possible DLD, the diagnosis is often made when chest radiographic findings are limited, or disease is apparent only on high-resolution computed tomography (HRCT).
The diagnostic difficulties resulting from the multiple disorders within the DLDs are exacerbated by semantic confusion. Synonymous terms abound for some of the more frequently encountered DLDs, such as the following:
This problem has been partially addressed by the reclassification of the idiopathic interstitial pneumonias by a joint American Thoracic Society/European Respiratory Society (ATS/ERS) international consensus committee, discussed in detail in Chapter 47. However, the term cryptogenic fibrosing alveolitis (CFA) continues to cause difficulties. As defined in the ATS/ERS reclassification, CFA is strictly synonymous with idiopathic pulmonary fibrosis (IPF). The diagnosis of IPF/CFA now requires the presence of usual interstitial pneumonia (UIP) at surgical biopsy or typical appearances on HRCT, in association with a compatible clinical picture. This represents a radical change; in historical series, various disorders presenting with a clinical picture of IPF were grouped together as IPF/CFA. The entity of "clinical CFA syndrome" is still necessary for epidemiologic studies but should not be viewed as a final diagnosis in clinical practice.
In routine practice, a simplified pragmatic approach to diagnosis of DLD is essential; consideration of a checklist of the more common diseases is often useful. The classification of DLD by their disease burden was addressed most definitively in a study from Bernalillo County, New Mexico, in which the incidence and prevalence of individual DLDs was quantified using a variety of methods (Table 46-1). New cases were estimated to occur in 32 : 100,000 years in males and 26 : 100,000 years in females; thus, although less common than lung infection, malignant disease or obstructive airways disease, the DLDs are responsible for a considerable disease burden. More recent evidence shows an increase in the prevalence of DLD, especially IPF, which inevitably means that the burden of disease has increased further in the previous one to two decades. Moreover, the workload for the respiratory medicine physician is disproportionate because the diagnosis of individual DLDs is often uncertain, despite more intensive investigation than is generally required in obstructive airways disease, malignancy, or chronic lung suppuration.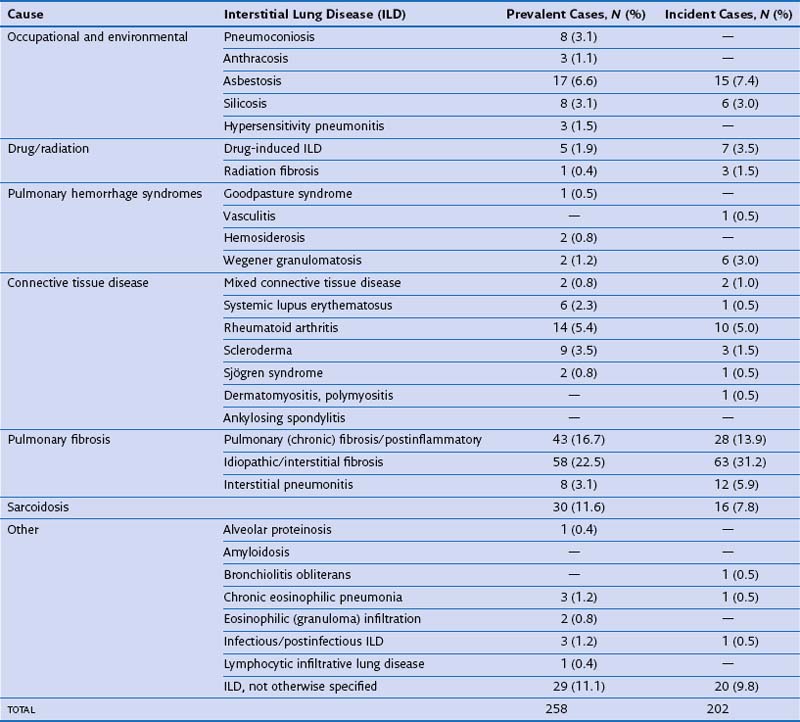 A consideration of the differential diagnosis of DLD, based on prevalence alone, is merely a starting point, for two reasons. First, clinical information at initial evaluation profoundly alters diagnostic probabilities; therefore a longer checklist of the DLDs, based on the possible underlying cause, is indispensable. Second, the length to which a specific diagnosis is pursued, with particular reference to surgical biopsy, is critically dependent on the importance of discriminating between likely differential diagnoses in individual cases. This crucial point is discussed in detail in the concluding section of this chapter.