CHAPTER 98
Coccydynia
Ariana Vora, MD; Amy X. Yin, MD
Coccydynia is pain in the vicinity of the coccygeal bone at the base of the spine. It may be localized to the lower sacrum, the coccyx, or the adjacent muscles or soft tissues. Pain can be insidious or sudden in onset. Symptoms are usually triggered by sitting or rising from a sitting position.
The mean age at onset of coccydynia is 40 years, but it can occur over a wide range of ages [1]. The most common inciting factor is trauma to the coccyx or surrounding soft tissue from a vertical axial blow or cumulative trauma from a difficult vaginal delivery. Pathologic features may range from dislocated sacrococcygeal fracture to ligamentous damage of the caudal coccygeal segments. In most cases, the tip of the coccyx is subluxated or hypermobile [1] (Figs. 98.1 and 98.2).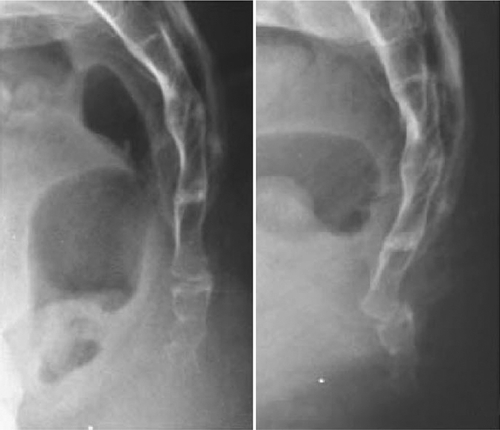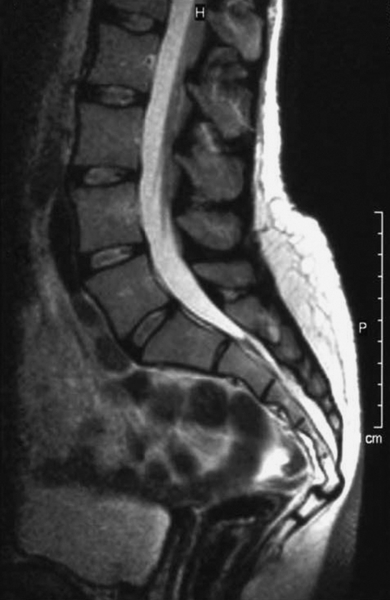 The coccyx consists of three to five rudimentary vertebrae. The first coccygeal segment has transverse processes that articulate and occasionally fuse with the sacrum. This vertebra is usually separate from the remaining coccygeal vertebrae, which may partially or completely fuse, leading to anatomic variation of one to four total bony coccygeal segments [2].
The fibrous sacrococcygeal symphysis connects the sacrum to these segments of the coccyx. This joint is reinforced by sacrococcygeal ligaments, which enclose the final intervertebral foramen through which the S5 roots exit. The S4, S5, and coccygeal roots contribute to the coccygeal plexus, which provides rich somatic and autonomic innervation to the anus, perineum, and genitals [3]. The levator ani (innervated by S3-S5 nerve root branches through perineal and inferior rectal nerve branches of the pudendal nerve [4]) and coccygeal muscles (innervated by S3-S5 nerve root branches [5]) attach to and support the coccyx during defecation and childbirth. The gluteus maximus also attaches to the lateral coccyx and can contribute to a sensation of pressure while sitting.
Morphology of the coccyx may have a role in coccydynia. The coccyx that is markedly curved or angled forward, is anteriorly subluxed [2], or contains a bone spicule [6] is more prone to pain. Degeneration of disc structures [7] and referred pain from lumbar disc disease [2] have been implicated. There are also reported cases of rare coccydynia pathologic processes, including tuberculosis, tumors, and calcification of the joints or tendons. Prevalence of coccydynia is four to five times higher in women than in men [8,9]. In addition to obstetric trauma [10], the increased susceptibility to injury in women is attributed to anatomy as the female coccyx is more posterior in location and larger than the male coccyx [11]. Coccydynia is three times more frequent in obese women than in nonobese women [6], and this may be related to decreased pelvic rotation while sitting.
Coccygeal pain is located at the tip or sides of the coccyx. The quality of pain is usually dull and achy at baseline and intermittently sharp during activities that aggravate the symptoms. A sensation of pressure or an urge to defecate is also commonly described. Coccydynia has been associated with dyspareunia, dyschezia, dysmenorrhea, and piriformis syndrome. Symptoms are usually exacerbated by sitting on hard surfaces, prolonged sitting, and moving from the sitting to the standing position. Symptoms are generally relieved by taking weight off the coccyx.
Levator ani syndrome and proctalgia fugax are variants of coccydynia.
Levator ani syndrome is a dull ache or pressure sensation in the rectum, with pain episodes lasting more than 20 minutes at a time. Symptoms tend to be more severe during the day than at night. Symptoms may result from a hypertonic levator ani or puborectalis muscle or from inflammation of the arcus tendon of the levator ani [12,13]. This syndrome is associated with posterior traction of the puborectalis muscle and levator ani muscle tenderness on rectal examination.
Proctalgia fugax is the sudden onset of excruciating anal pain lasting a few seconds or minutes, then disappearing completely. Proctalgia fugax is characterized by spastic muscle contractions of the pelvic floor [14]. Episodes usually occur fewer than five times a year [15]. Symptoms are not typically related to defecation but are associated with sexual intercourse. Symptoms are usually nocturnal and awaken the patient from sleep. Unlike coccydynia, which is more common in women, proctalgia fugax occurs equally in men and women.