CHAPTER 65
Knee Chondral Injuries
Alison L. Cabrera, MD; Kurt Spindler, MD
Chondral injuries are any degree of loss of the normal thickness and structure of articular hyaline cartilage. Chondral damage can occur in any joint, but most of the literature has focused on the knee, which is the focus of this chapter. Outerbridge [1] classified cartilage lesions in 1961, and this remains the current classification used to date (Fig. 65.1). Partial-thickness articular cartilage injuries do not heal but are rarely associated with significant clinical symptoms [2]. Full-thickness cartilage injuries, in which the injury extends to the depth of subchondral bone, may heal in with fibrocartilage, but this type of cartilage has shown inferior biomechanical and biochemical properties compared with hyaline cartilage [2,3]. Large, full-thickness cartilage defects are less likely to benefit from the healing fibrocartilaginous response and frequently will lead to symptoms [2].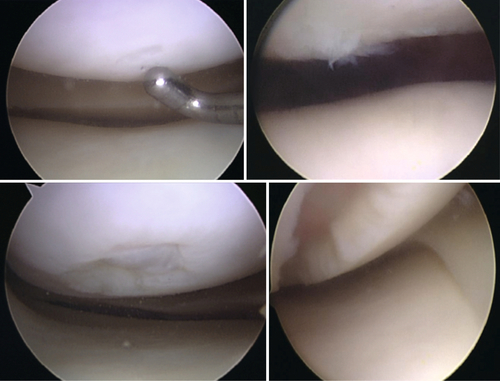 The exact incidence of acute cartilage injury is unknown. In young, active patients who present with a hemarthrosis of the knee after a traumatic event, 5% to 10% are found to have cartilage injury [4]. Many studies have retrospectively reviewed the incidence of cartilage injury after arthroscopy for other injury and found rates ranging from 5% to 11% for full-thickness lesions [5,6]. A study looking retrospectively at 25,124 arthroscopies found a 60% incidence of cartilage lesions [7]. Regarding age differences, the incidence of a localized grade III or grade IV cartilage lesion in patients undergoing arthroscopy ranged from 5% to 7% for patients younger than 40 years and 7% to 9% for patients younger than 50 years [6,7]. These studies included both acute and chronic cartilage lesions. Grade II was the most frequent lesion, seen in 42% [7]. The most common locations were the patellar articular surface (36%) and medial femoral condyle (34%) [7]. Seventy percent of the chondral lesions seen were associated with other injury, with medial meniscus tear (37%) and injury of the anterior cruciate ligament (36%) being the most common [7].
Most authors would agree that progression to osteoarthritis is a concern; however, there is little evidence to date that quantifies the incidence or severity of osteoarthritis after chondral injury. More natural history and outcomes research is needed to better predict a patient's likelihood of progression to symptomatic osteoarthritis according to the characteristics of the cartilage injury.
Buy Membership for Physical Medicine and Rehabilitation Category to continue reading.
Learn more here