Interpretation of Blood Gases
Care of patients with cardiopulmonary disorders often requires precise knowledge of their oxygenation, ventilatory, and acid-base status. This information is obtained by blood gas and oximetry analysis, mainly of arterial blood samples. To assure comprehensive patient assessment and support good clinical decision making, respiratory therapists (RTs) must know when and how to obtain these measurements and be able to accurately interpret them.
This chapter focuses on the interpretation of arterial blood gas parameters because these measures best reflect the lung's ability to exchange O2 and CO2 with the blood, the blood's O2 carrying capacity, and its acid-base status. Table 8-1 outlines the common reference ranges for arterial blood gas measurements.
TABLE 8-1
Sample Reference Ranges for Arterial Blood Gas Parameters
Parameter
Symbol
Reference Ranges
Partial pressure of oxygen
Pa

o

2
80-100 mm Hg (room air)
Hemoglobin content
Hb
Males: 14-8 g/dL
Females: 12-15 g/dL
Hemoglobin saturation
Sa

o

2
>95%
Carboxyhemoglobin saturation
COHb
<3% (nonsmokers)
Methemoglobin saturation
metHb
<1.5%
Oxygen content
Ca

o

2
16-20 mL/dL
Hydrogen ion concentration (negative log)
pH
7.35-7.45
Partial pressure of carbon dioxide
P

co

2
35-45 mm Hg
Plasma bicarbonate
22-26 mmol/L
Base excess
BE
±2 mmol /L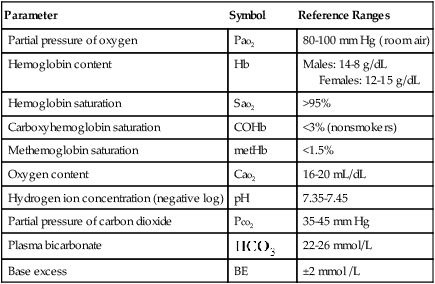 BE, base excess;

, plasma bicarbonate concentration; Pco2, partial pressure of carbon dioxide; pH, hydrogen ion concentration in blood; Po2, partial pressure of oxygen; SO2 oxyhemoglobin saturation.
Peripheral venous blood has passed through the tissue vascular beds, so it reflects local metabolism and is of no value in assessing lung function. On the other hand, mixed venous blood samples from the pulmonary artery can be used to evaluate overall tissue oxygenation. Use of mixed venous blood for this purpose is discussed in Chapter 14.